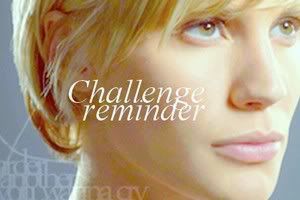 So...your friendly neighborhood Mod here with a reminder, extension and information (is that too much to put into one post?)
First off
the reminder
:
We are still looking for more icons to be submitted for round 143. This round should be simple, no need to make icons from scratch, just spiffy up one (or five) of your older Kara icons and submit.
You can find all the information and submit your icons
HERE at the original entry
. So far
2
has submitted icons.
Second the
extension
:
Since I've sucked at putting up reminders (once again) I'm going to extend this one more week. I'll run voting with just the two peoples submissions (as they are SO pretty) but I'd love to have a few more in the mix. So even if you just can submit one icon, we'd love to see it.
The next close date is Monday May 30th.
and lastly the
Information
:
I've updated the user profile. I've added our loving memory of
amadala_thrace
to the page. But the only MAJOR change is that I have added the list of affiliates to the user page. I wasn't able to update the entry they were in before, and should this community (for what ever reason) change hands again I want the mods (or all the mods for that matter) to be able to update this list.
BSG-RELATED COMMUNITIES
battlestar_blog
bsgficexchange
bsg_stillness
bsg_graphics
bsg_pairicons
bsg_refrak
bsg_sosayweall
bsgstillness
bstg_icontest
capricastills
chiefstillness
cylons_stills
frakkintoasters
galactica_icons
iconic_lee
leeadama_daily
lucystills
katee_stillness
starbuck_anders
theyhaveaplan
tricia_stills
OTHER ICON CHALLENGES/COMMUNITIES/SITES
bathroom_girls
bones_stills
character_itest
emilystills
dollhousestills
dwo_stillness
fandom_mania
fs_lims
good_fandomicon
griss_challenge
ic_challenge
icontestscrubs
mashstillness
moonlight_ic
multilvl20in20
obidalastills
onlytext20in20
rathbone20in20
richlan_ic
sawyerstillness
scenes20in20
scifi100
scifi_icontest
shipper_itest
spam_fest
sw_eu_icontest
swicontest
toon_icontest
year_of_chars
year_of_seasons
year_of_ships
year_of_tvfilm
Thanks everyone! I look forward to spending more time with you and seeing your pretty Kara icons!